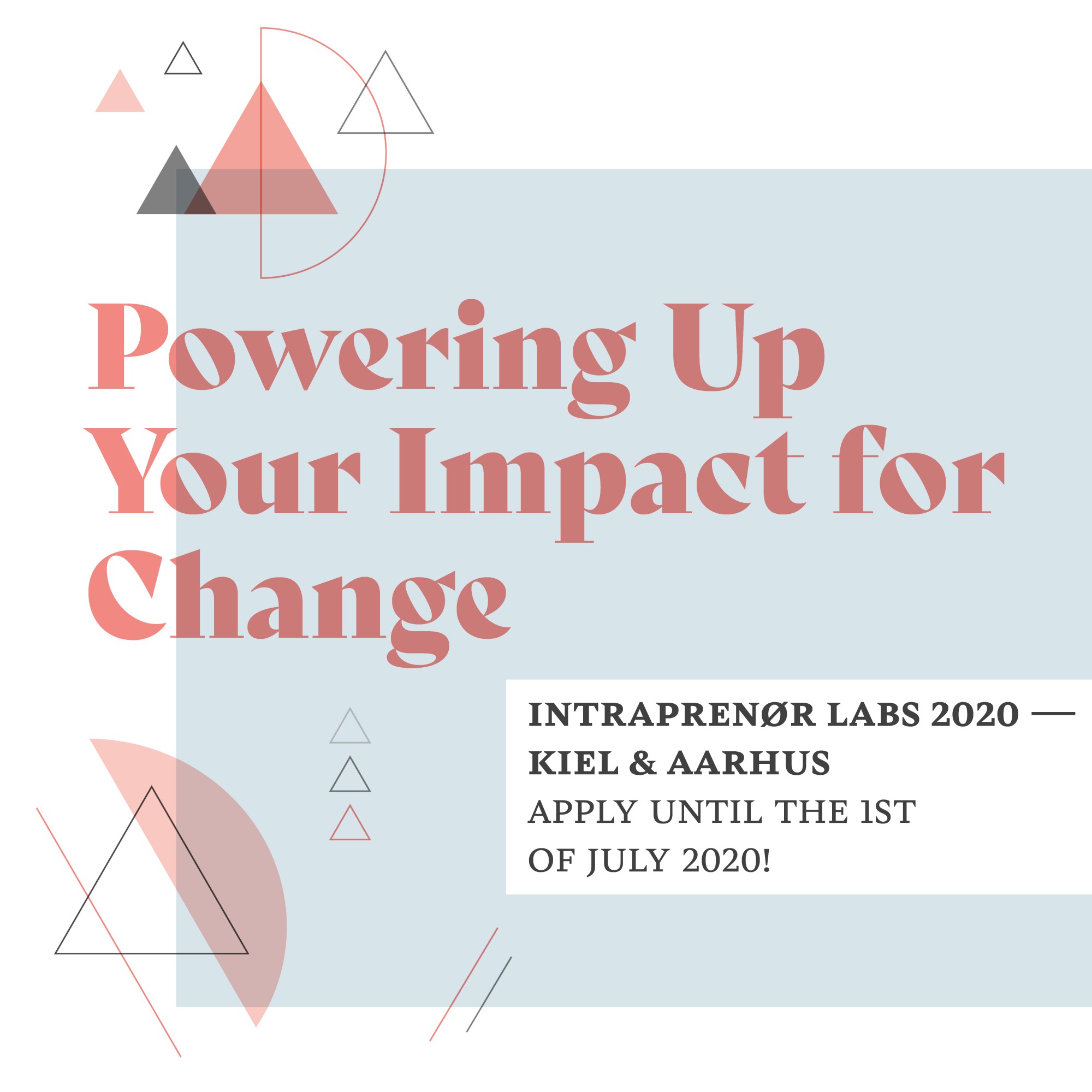 Intraprenør Labs
Empowering Internal Change Makers
deadline for application
>> 29.03.2020 01.07.2020 <<
Intraprenør Labs connects innovative employees. We give you a strong network in a group of change makers from Aarhus and Kiel! Targeted masterclasses on change management, storytelling and personal reflection give you a forum for your development and tools to power up change in your organization.
note: dates changed due to the covid-19 crisis
download German flyer
download Danish flyer
Who can apply?
We are looking for intrapreneurs - people with courage and ambition for change in your organization. You are an employee in a public or private organization e.g. administration, foundation or company.
How does it work?
Apply for one of the 20 spots. The participants get 2 days of intensive training and group processes in Kiel and Aarhus, and two online labs. Due to the Covid-19 crisis, two labs will be online and in case of further travel restrictions, all labs can be held online. Will you visit the partnercity We invite you to to stay a little bit longer and meet like-minded change makers at exciting events, such as the Digitale Woche in Kiel.
Cost
Intraprenør Labs is funded by the city of Kiel. Participants only pay a personal share of 180 € / 1350 DKK, either by own means or paid by the employer. Travel and accommodation costs will be covered by the project.
Dates
Lab 01 // 27th August 2020 (digital)
Lab 02 // 12th September 2020 (Kiel)
Lab 03 // 22nd Oktober 2020 (digital)
Lab 04 // 21 November 2020 (Aarhus)
Apply Now
Until 01st July 2020
click here to apply here via our online form
Organizers
Intraprenør Labs is a collaboration between the Anschar GmbH (Kiel), AU Inkubator (Aarhus) and Humanister i Erhvervslivet [Humanities in Business] (Aarhus) and funded by the city Kiel as part of the city partnership between Kiel and Aarhus.